The modern trend is to install copper sinks to the kitchen. But, why?
Paying such a large amount of money for a mere kitchen sink! Some would raise their brows high up as if you've gone mad. The reason is that most people do not know the real medicinal, aesthetic and chemical value of a copper sink. Very few people know how copper could cure skin diseases and how it kills harmful microbes. Here are some more advantages of having a copper sink in the kitchen. I'm sure you'd love to pay for one at the end of this article. So, let's read on.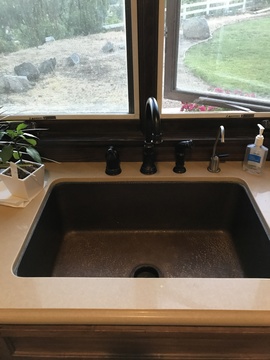 They come in impeccable designs
All we need from a kitchen sink is the easy-to-use nature and elegance. Mexican hammered copper kitchen sinks satisfy both these needs and add a valuable, luxurious look to the kitchen. They go with the interior settings while filling it with a bit of royalty. In fact, copper, gold, bronze and sliver are metals always associated with royal families. Installing a copper sink in the kitchen is a certain approach to the royalty. Apart from that, it's yet another way to improve the natural, artistic look of the kitchen.
Copper sinks are of a sturdy built
Usually, a copper kitchen sink is as heavy as 50 pounds or even more. This weight ensures a high durability. It does not ware out soon. And it's made especially by hand hammering thick pieces of copper in order to withstand heavy work. So, it's more durable and stronger than ceramic or steel sinks. Also, no staining or color changes happen as long as it stays as a living metal. When buying a copper sink you must make sure that the surface is not coated with any paint or anything to preserve it. If it's coated, the potentialities of that 'living metal' is gone for good.
Mexican copper sinks are more spacious than others. You can put even a huge pan into it and wash with ease until the dirt is completely gone. Since it has ample room inside the sink, no water is spilt out. So, the kitchen floor is kept dry without a drop of water until the end of the washing process. Cleaning a copper sink is much easier too. Just a touch of soap and a spray of warm water would do their best in cleaning. You won't have to go on rubbing, rubbing and rubbing. That's why copper sinks always excel in functionality and maintenance.
Do you still have doubts about buying a copper sink? Never hesitate to do such a favorable investment. Better to buy a Mexican hammered copper sink to brighten your kitchen with an ancient, yellowish copper glow.